Are you planning to make your first visit to the U.S.? If so, check out this guest post from Indian travel blogger, Sai Mekala.
"Horrendously strenuous" is how Einstein had explained his first visit to the U.S. He had his reasons – he was worried paparazzi would run after him – but for people like us, "mango people," the U.S. is often considered the dream destination, a country with both opportunity and surprises, as well as an abundance of first-world pleasantries. Here are some of my recommendations for first-time travelers to the U.S. before they pack their bags and start their voyage.
Buy Travel Insurance.
It is always a great idea to get oneself covered, and covered well, in case of unforeseen health hazards. Travelers are often stranded with huge bills come a mishap. Insurance can save you the trouble, though, and you only need to pay a tiny premium for good service – the investment is well worth it Spend some time reading through the documents before enrolling in a plan, for you are the best judge to decide your needs.
Pack the Right Clothes.
Well, I understand the movies of Hollywood ooze the charm of a sunny bright country where colorful linens add to your cool personality. However, the U.S. is way beyond the bright beaches and pretty towns or cities with skyscrapers. If the traveler in you is longing for a trip to Alaska near the Arctic to watch the whales or is seeking solace in the panoramic desert of Arizona down south, you need to be wise while packing. Diverse geographical conditions will require a varied set of clothes. But, remember, do not over pack.
Plan Your Trail.
East Coast or west? The northern stretch of snow-covered land or the southern states of diverse culture? New York or California? Pacific or Atlantic? What is your call? Or have I confused you with choices abound?
The U.S. is a humongous country of 50 states with a range of flora, fauna, experiences, mountains, lakes, rivers, scenic beauty as well as people and cultures. It is quite impossible to cover all of it in the first trip. My suggestion is to take some time to research and make choices, and venture to few states of your liking.
Learn Tipping Culture.
Be polite and gentle to service people, and tip them well. A minimum 15% tip is the rule of the land.
Don't Drink Alcohol in Public, and Don't Smoke Indoors.
Drinking is practiced and encouraged in private or regulated zones, like a restaurant's patio or a festival. But please obey the rules and do not bring alcohol out in public, like to a park or beach. It is often against the law. Also, pay attention to where you are able to smoke. Most places don't allow smoking indoors.
Rent a Car.
While traveling long term, opt for a rental car. Public transport doesn't cover most of the less sparse areas and smaller towns outside of big cities like NYC or Chicago. And you can catch some beautiful scenery and historic attractions along the roads.
Drive on the Right.
Cars in the U.S. drive on the right side of the road, unlike in India where they're driven on the left. Be advised beforehand for changing gears or taking a turn, and be alert to avoid any possible incidence.
Don't Order Too Much Food.
Portions are as huge as they may get. A plate of noodles will serve a couple of foodies at least. Order wisely or ask the staff to pack your leftovers (great for the next day's breakfast). I suggest ordering appetizers or side dishes, and if successful in finishing them up, go grab more of the great food that the U.S. has to spoil you with!
Pay Attention to Measurements.
Yes, even measurements differ. The U.S. uses imperial units for measuring, so distances are in miles, liquid volumes are in liquid ounces, temperature is in Fahrenheit, weights are measured in pounds, and so on. A good idea is to download a conversion app, or you can always do a quick Google search. Despite the inconvenience, learning another's culture is part of being a wide-eyed traveler!
Respect the Locals.
This one is non-negotiable, absolutely. No matter the jolly old nature of Uncle Sam, Americans value privacy with utmost concern. Pay respect to their sentiments. However, a genial smile and friendly greeting will always open the door of a great conversation with an American.
Carry Multiple Credit Cards.
Due to different banking rules and security systems, it may happen that you will end up with a non-working credit card in hand at the point of sale. To avoid embarrassment, please carry multiple credit cards with you. One of them should work if the other refuses.
Don't Forget About Sales Tax.
There is no MRP (Maximum Retail Price) printed on the products in the U.S. All prices displayed in retail stores are marked with a price tag before taxes are applied, so the price will be higher when you pay.
These pointers come from the experiences of a person who discovered the U.S. on his own. Of course, precautions, not listed, are plenty. Feel free to add your advice in the comment section for we learn and grow the most from each other.
After completing his M.B.A in 2012, Sai Mekala, set out to explore the world. He has since become one of the top travel bloggers in India and has inspired many Indians to get away from their desk jobs and become digital nomads with his blog Romancing The Planet. Sai blogs about his travel experiences in the U.S.A. on his other blog, A Billion Hectares.
Pin it!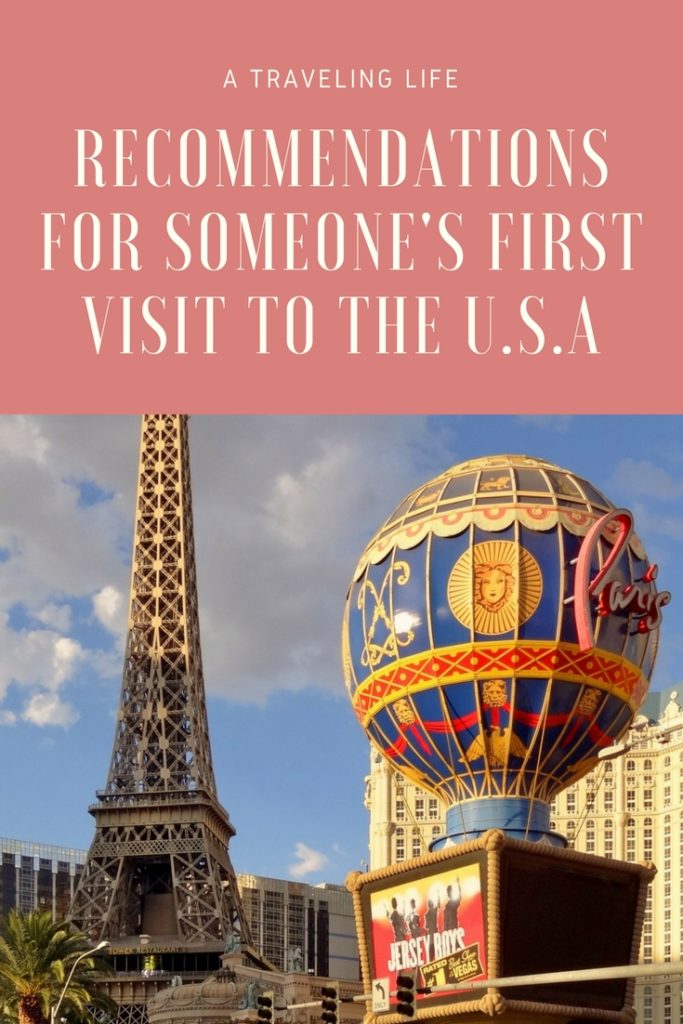 Banner image: Cadillac Mountain in Acadia National Park, Maine (Photo: Brianne Miers); all other images, Creative Commons Zero (CC0)