On my last day in Morocco, I learned how to make traditional Moroccan salads in Marrakech with the women of Amal, a nonprofit social enterprise that helps women gain financial independence through culinary training.

This year instead of celebrating the holidays in New Jersey with my family, two friends and I took a 12-day tour of Morocco with Intrepid Tours. Specifically it was the "Morocco Real Food Adventure," so every stop featured a different opportunity to learn about Moroccan cuisine – in Meknes, my travel companions tried a camel burger (as a vegetarian, I sat that out). In Chefchaouen, we tasted the creamiest goat cheese I've ever had, and in Fes, we had pastilla served in a breathtaking riad.
At our last stop – Marrakech – on the last day, the activity was a cooking class and lunch at Amal. Despite feeling quite under the weather that morning, I was able to rally. I was motivated by the opportunity to roll up my sleeves and do some cooking, instead of just eating, while learning about a nonprofit social enterprise that prepares women for culinary careers.
Skip to Moroccan Salad Recipes
In 2021, Morocco ranked 148th out of 156 countries on the World Economic Forum's Gender Gap Index for economic participation and opportunity.
What's it like to be a woman in Morocco?
Our female guide in Fes told us that up to about 100 years ago, Moroccan women never went outside. The "joke" was they only left the house for their wedding and their funeral – they spent the rest of the time indoors, socializing only with the other women in their family and perhaps a few neighbors. Our group of 9 international women stared at her with open jaws.
Fortunately, times have certainly changed, and it's common to see Moroccan women out and about. However, even in the more cosmopolitan cities, you still don't see women socializing in public. You'll usually only see men at cafes, sitting side by side, chatting and smoking. When we pointed this out to our modern, 30-something guide, he explained the disparity by saying, "Women don't smoke. They don't like soccer." 
Inequities not only persist socially but also in the workplace. In 2020, Moroccan women accounted for 50.2% of the country's population but only 23% of the workforce, according to a 2021 study by the Moroccan national statistical agency, Haut Commissariat de Plan. And the work that is available is often low paid and inconsistent. The lack of stable employment opportunities for women leaves them particularly vulnerable if they become widowed or divorced, especially if they have children or other relatives to support.
And that's where Amal comes in.
Over the past 10 years, more than 300 women have completed Amal's culinary training program, with 86% gaining employment in the restaurant industry upon graduation.
About Amal
Amal was actually founded by an American woman living in Marrakech. Back in 2012, she encountered a young woman who needed to earn money to feed her family, so she hired her to make and sell couscous. That venture grew into a restaurant that employed local women, and after securing a grant the following year, Amal's culinary training program was born.
The goal of the program is for women to achieve financial independence by gaining essential life and culinary skills that prepare them for rewarding careers in the service industry. Each cohort is comprised of 30 no- or low-income young women, many of whom are single mothers. The women must apply and go through two rounds of interviews, so Amal can assess their motivation to learn and work, and fully commit to the experience. 
Over the course of six months, the women receive rigorous training in all aspects of the restaurant industry – from preparing both Moroccan and international cuisine, to dishwashing and cleaning, to managing stock and pantries. Trainees can also enhance their "soft skills" like English, French and customer service, and take advantage of yoga, Reiki and other wellness classes. While in training, the women receive a stipend and meals, as well as tips. Then, after completing an internship, Amal finds the graduates work in local restaurants, hotels, riads, or private homes.
Moroccan Salad Cooking Class at Amal
Amal's training center, which opened in 2016, sits in a quiet corner of the Targa neighborhood behind coral-colored walls. It took us about 20 minutes to get their from hotel in the morning traffic. Upon our arrival, the four of us were each issued a bright orange apron and led to a spacious room lined with stainless steel prepping tables. 
The translator for our cooking class was a young woman from Marrakech, who returned home during the pandemic after living and working as an attorney in Canada. She instructed us to grab a workstation – which had been fully stocked with our ingredients, spices and necessary tools – and our two instructors began marching us through our tasks. Both instructors were graduates of the culinary program themselves, and the lead instructor has been with Amal for over 10 years. 
Since we were there to make salads, we did quite a bit of chopping, seasoning and stirring on the stove tops – our every move guided by our kind instructors, who have clearly made these salads thousands of times in their lives. It took only about an hour for us novices to produce five bright and beautiful overflowing bowls of vegetables in various forms.
We then had some time to sit outside on the' center's spacious covered patio, sip some mint tea and play with the resident cats. When the rest of our group arrived after a morning of shopping in the medina, we were seated at a large table, where the salads were laid out in front of us. We all grabbed some bread and dug in to taste our creations. I know I'm biased, but it was one of my favorite meals of the trip – light, fresh and flavorful – and, luckily, our group mates agreed.
As we were leaving, I was able to briefly chat with the class instructors, with the help of our tour guide, Jihad. I asked them, "What do you like about Amal?" While they seemed quite shy and a bit embarrassed to be the center of attention, they were nice enough to answer my question: "I get a good salary." "I learned a lot." "I meet people from all over." And, "I'm happy."
About Moroccan Food
I admit I wasn't too familiar with Moroccan food before my trip; however, I quickly grew to love it. It's one of the most diverse cuisines I've encountered, having been influenced by the Berbers, Arabs and Europeans (particularly French and Spanish) over the years. It also can easily accommodate a variety of dietary preferences, including vegetarians and vegans, as well as food allergies. Even the guy on our trip who typically eats nothing but beef was happy.
The more formal meals we had typically started with a variety of small plates of vegetables ("salads") served family style, which you eat like dips using the fresh, crusty bread that's always on the table – Moroccans are very serious about their bread. For individual entrees, we usually had a choice of couscous served with meat like chicken or lamb, or tagine, which is basically a stew served in a clay dish with a funnel top. My vegetarian versions were the same flavors but prepared with only veggies like carrots, zucchini, peppers, and tomatoes. Fresh mint tea was served at every meal, which I particularly enjoyed.
Moroccan Salad Recipes
Aubergine Salad (Zaalouk)
Zaalouk is very to baba ganoush in taste and consistency. It's also a very versatile dish – you can serve it hot or cold, as a starter or a side, and as a dip for your favorite bread. You can make this the night before serving. In fact, it will taste better after it sits for a bit.
Prep time: 20 minutes
Servings: 2
Ingredients:
1 aubergine (eggplant)

½ onion

½ teaspoon parsley and coriander

½  teaspoon cumin

¼  teaspoon paprika 

1 pinch pepper

½  teaspoon garlic

½ tablespoon vinegar

1 tablespoon olive oil

¼  teaspoon salt
Instructions:
Peel the aubergine, but leave on some strips of skin, and dice into cubes. 

Chop the onion.

Heat sunflower oil in a pan and sauté the onions until they start to brown, stirring frequently. Then add the aubergine.

After the aubergine is cooked thoroughly, remove from heat and add the olive oil and vinegar, as well as the spices.

Decorate with parsley and coriander to serve.
Taktouka Salad
This salad is typically served as a starter with bread. It also can be served hot or cold.
Prep time: 45 minutes
Servings: 4
Ingredients:
6 ripe fresh tomatoes, peeled, seeded and chopped

2 to 3 large green peppers, roasted, peeled, seeded, and chopped

3 large cloves garlic, finely chopped or pressed

3 tablespoons chopped fresh

parsley

 

3 tablespoons chopped fresh

cilantro

 

1/2 teaspoon salt, or to taste

1/4 teaspoon freshly ground black pepper 

1 tablespoon

paprika

2 teaspoons ground

cumi

n

1/4 cup

olive oi

l
Instructions:
Mix all ingredients together in a large skillet. Cook over medium heat, occasionally stirring, for about 20 minutes or until the tomatoes are very soft. Adjust the heat if necessary to keep the tomatoes and peppers from burning as the liquids evaporate.

Smash the softened vegetables with a spoon and continue cooking for another 10 minutes, or until the liquids are reduced to oil. At this point, the salad should be well-blended and can be stirred away from the sides of the pan.

You can garnish with fresh chopped parsley or cilantro, and a drizzle of olive oil.
How to Support Amal
Like most businesses that rely on tourism, the onset of the COVID-19 pandemic hit Amal pretty hard. While they were closed, they distributed food baskets to families in need and couscous to front-line healthcare workers. Unfortunately the training program had to be suspended, but it was brought back in 2021.
Today, you can support Amal by taking a cooking or baking class at the center, or by attending a Saturday night vegetarian dinner. You can also visit the Amal restaurant in Gueliz – for each meal purchased, they donate a meal to someone in need.
Pin these recipes for later: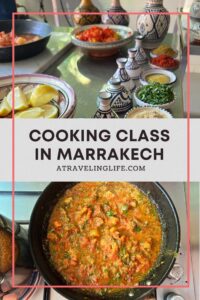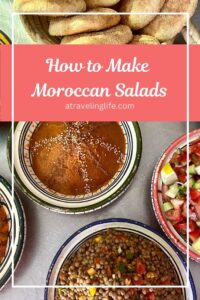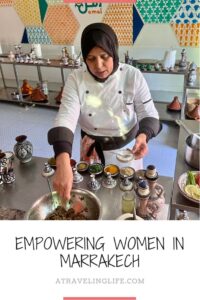 Banner image: Getting instructions from the head of Amal's cooking classes