Ladies: What to Pack for Southeast Asia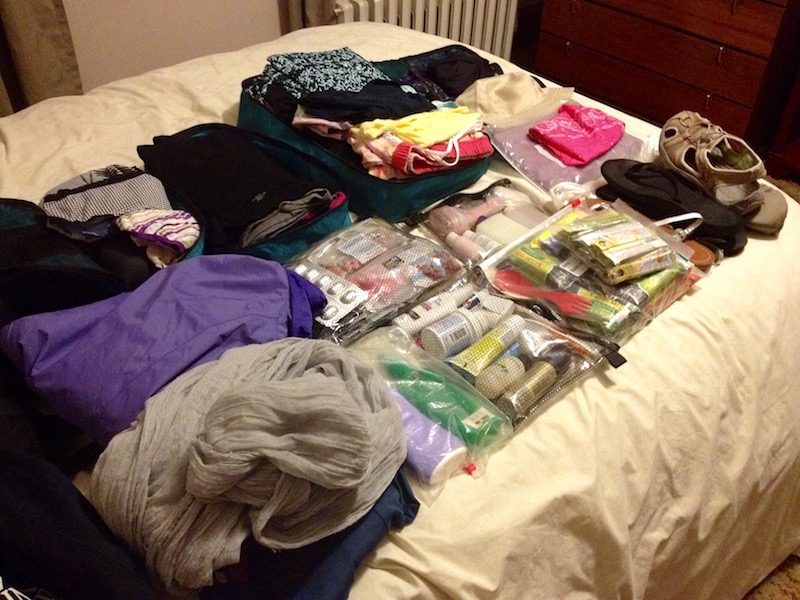 Ladies, this one is for you! Below is THE packing list for Southeast Asia, based on what I brought in my backpack for almost eight weeks in Vietnam, Cambodia and Malaysia during fall 2014. I later used this list to pack for almost eight weeks in southern India, so it should work for any long trip to a warm climate.
When traveling I'm a firm believer in wearing simple, neutral layering pieces (and then throwing on a scarf or some jewelry to not be completely boring). For the most part, I felt like I had everything I needed during these trips, although I was pretty chilly during the 24 hours I spent on Halong Bay in Vietnam. However, it definitely wasn't worth it to carry around a fleece – which is what my dad wanted me to do – just for one night. (Needless to say, check to see what the high and low temperatures will be at each of your destinations and plan accordingly for the time of year you'll be traveling.)
Of course, you'll need to do laundry occasionally – you go through clothing pretty fast in warm climates – but I've always found it to be fairly cheap, quick and easy to get clothes washed at my hostel or hotel. (Although I do carry travel laundry detergent – like this – to use in a pinch.)
Markets and shops are also prevalent throughout Southeast Asia and India, so you can likely pick up some cheap clothing if you need it along the way. However, I am very tall (5'10 or 178cm), and I have big feet (size 10 in the U.S.), so I can't rely on finding something that will fit me off the rack, especially in countries where most of the women are more petite.
I did manage to fit everything on the list below into my trusty Eagle Creek backpack, which I've used for more than 15 years (!) – here is the link to its more modern counterpart.
Clothing
Tops
4 tank tops (I wore one on the plane.)
4 t-shirts
Bottoms
1 pair black leggings (I wore these on the plane.)
1 pair cargo pants
2 short black skirts
Dresses
1 maxi dress (It's good to have at least one longer skirt or dress for temples.)
3 sundresses
Pajamas
2 pair pajama shorts
2 pajama tops
Athletic Gear
1 sports bra (I didn't use this much.)
1 bathing suit (I ended up losing my bathing suit in Malaysia. It was very hard to find a replacement, so be careful!)
1 yoga tank (I didn't do nearly as much yoga as I thought I would.)
1 pair workout shorts
Layering pieces & outerwear
1 light black cardigan (I wore this on the plane.)
1 long-sleeved shirt – like this
1 light windbreaker – like this (This is one item that I rarely used.)
Unmentionables
10 pairs underwear
2 bras
Accessories
Sunhat
1 light scarf for evenings
1 pashmina (I used this on the plane.)
Clutch purse for evening & fold-up cloth bag to use as a purse during the day
Jewelry (I wore simple jewelry during the day but brought a few necklaces and earrings for evening.)
Shoes
1 pair sport sandals – like these (I wore these on the plane.)
1 pair black flip flops – like these
1 pair dressier sandals – like these
Everything Else
And here is a detailed packing list of what to pack in your carry ons, including:
Makeup kit
Shower kit
Toiletry kit
Bandana & small quick-dry towel
Laundry detergent packs & stain remoAll Postsver
Snacks granola bars and nuts
Is there anything I forgot that you would recommend?
---
---